Meet Isabelle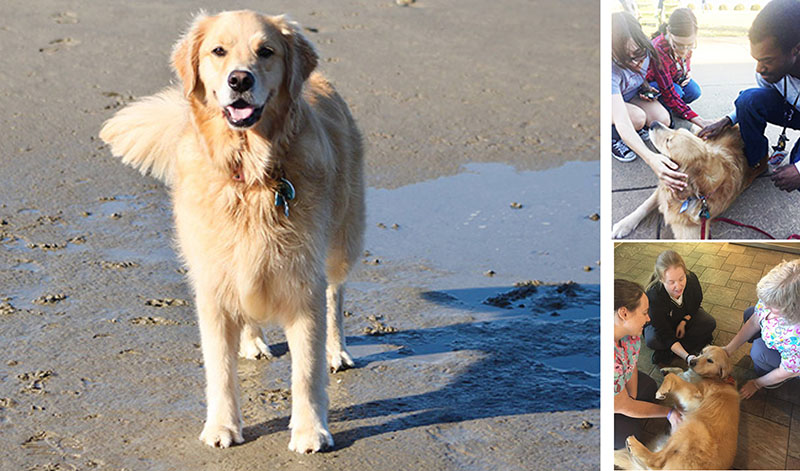 Isabelle is a very special dog ...
Isabelle is a 6½ year old Golden Retriever and is Dan's third Golden. Isabelle keeps quite a schedule and has had extensive training in obedience and companionship. When she arrived as a puppy, she began basic training. She then began to prepare for the
CGC Test
(
Canine Good Citizen
) and passed with flying colors! She was the youngest in the group at 14 months old. The test took one hour and 20 minutes, and consisted of 10 parts. Accepting a friendly stranger, Sitting politely for petting, appearance and grooming (must welcomed being brushed), out for a walk (walking on a loose lead), Walking through a crowd, Sit and down on command and Staying in place, coming when called, reaction to another dog (had to pass another dog, stop and talk to person, while she sat), reaction to distraction, and supervised separation (had to leave her with stranger, tell her to stay, and leave room for 3 minutes). She really made Dan very proud and made the first step to being certified as a Therapy Dog! In 2014, she became an advanced Therapy Companion and she & Dan are cleared for visits to schools, office buildings, hospitals, and assisted living facilities. Last year Isabelle passed the final, new, and most challenging test; The
AKC Community CanineTest
(
CGCA
). 
Her daily routine includes attending Dogtopia of Elsmere for the past 6 years. She attends usually 4 days a week. One day a week she comes to work at the Dan Logan Group. Every other week we visit assisted living facilities where everyone is so happy to see her. She also swims at an indoor dog pool year round.
Isabelle is always happy to make new friends. If you see her out & about, make sure to stop and say "hi!"